Clothes and upholstery appear to be gleaming and shiny until and unless stained with a certain type of product. Here we're talking about wood stain which is a product used to color wood and comprises colorants, dyes, chemicals, and a mixture of oils dissolved in the resultant solvent.
And having that said, it becomes really difficult to remove wood stains from fabricated surfaces such as clothes and upholstery. Difficult, however, doesn't mean impossible and that leads us to our today's topic of discussion at The Upholstery Master which includes a complete guide on the removal of wood stains from clothes and upholstery surfaces.
The extent of efficiency in the results for stain cleaning depends upon the area covered by the stain. Furthermore, large stains, if cleaned, will leave behind some marks or spots whereas small stains when cleaned will leave behind nothing. Also, stain strength will contribute a major part to the effort needed for the removal of the wood stain from clothes or upholstery surfaces.
A Step-By-Step Guide On The Removal Of Wood Stains From Clothes & Upholstery
Keeping in mind the above discussion, it becomes needless to mention that cleaning wood stains from clothes and upholstery requires you to opt for a completely different set of practices. Therefore, we're going to explain both cleaning methods separately to help you have a better understanding and to eradicate confusion among the concerned steps for cleaning purposes.
Materials/Equipment Needed To Begin With
But before we start explaining the procedure to remove stains, you need to be informed about all the essential things, materials, and tools required for performing this DIY task efficiently and with no trouble at all.
Hence, you should arrange for the following materials and equipment prior to proceeding with the wood stain removal process.
A Cotton Swab or a Soft Clean White Paper
Washing Machine (for cleaning stains from clothes)
Vacuum Cleaner (for cleaning upholstery)
Mineral Spirits
Mild Detergent or Cleaning Agent
You can choose from the following stain remover products (most of them are household ones) depending on their availability and the type of fabric your furniture has been upholstered with. Some of these wood stain removers include hydrogen peroxide, ammonia, distilled white vinegar, baking soda, etc.
Wood Stain Removal Procedure For Cleaning Clothes
The best possible option for wood stain removal is to immediately treat the stain and don't allow it to settle deep into the clothes fabrics. Otherwise, the stain will be converted into a stubborn one that persists at a place and requires much more effort to be removed as compared to when treated immediately.
However, irrespective of the scenario in your case, you should go along with the following set of rules for removing wood stains from clothes as well as furniture upholstery.
1. Swab With A Solvent Of Mineral Spirits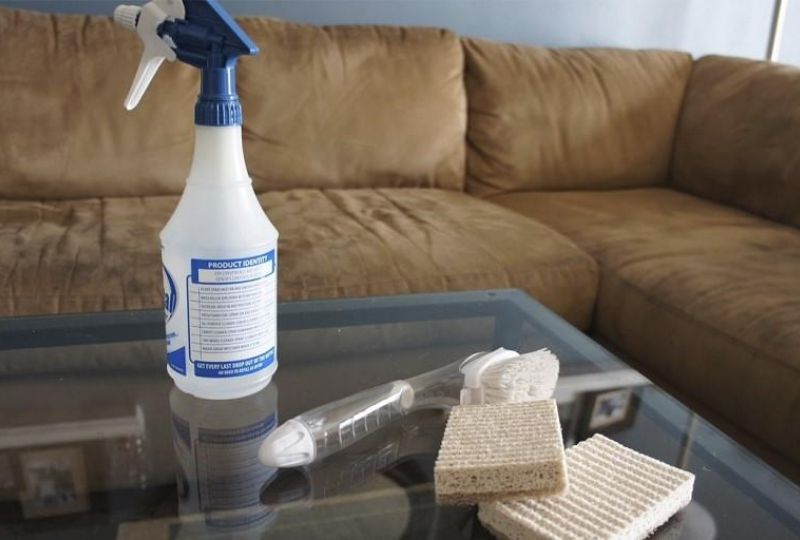 The first and foremost thing is to look for whether mineral spirits are compatible with the type of clothing fabric you want to treat for stain removal, or not. For this purpose, you can try applying some solution on the inner seam of the cloth fabric. And if found compatible, you can proceed further.
The next step requires you to dab mineral spirits on the stain so as to efficiently remove it from the fabric surface or fabric-covered stuff. For this purpose, you should start from the edges of the stain and work your way inwards because proceeding otherwise will spread the stain to other areas and it will take the form of a smear that is comparatively impossible to be removed thoroughly.
If the stain is temporary (as in the case of immediate treatment), it will start disappearing as you proceed with the treatment. However, permanent stains will require you to repeat the stain removal procedure until they disappear at last. No need to mention that some permanent stains that have been incorporated with the clothing fabric won't be removed at all.
Read More: How To Fix Or Patch A Giant Hole In Leather Or Vinyl Upholstery?
2. Wash The Cloth According To The Care Label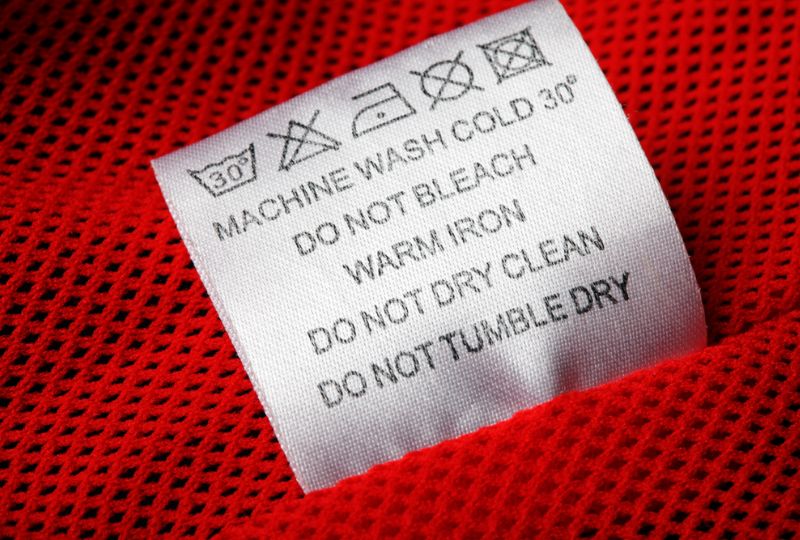 After the removal of the wood stain, the clothes should be washed thoroughly. Prior to beginning with the process, it's necessary to look for what the clothing manufacturer has recommended under the cleaning and maintenance section i.e. compatibility with machine wash, hand wash, etc.
Because not doing so can cost you precious time and valuable effort spent on cleaning, besides that piece of clothing will get damaged beyond repair and won't be of any use afterwards. The last detail that should be looked at is not to machine-dry that piece of clothing until and unless you're certain that the wood stain has completely vanished from the cloth surface.
Read More: Is Reupholstering Your Furniture Worth It?
Wood Stain Removal Procedure For Cleaning Upholstery
For cleaning upholstery, you'll need a wood stain remover that is designed specifically according to the type of the upholstery fabric. Hence, you should check for the type of fabric your stained furniture item has been upholstered with to look for a compatible wood stain remover prior to moving any further in the cleaning process.
Adding to that, there are many different types of stain removers available on the market including water-based, solvent-based, and dry-cleaning solvents. And, once you've found the right cleaning product for treatment, you can proceed further with the process by following the steps mentioned below.
Moisten a part of a soft fabric cloth with the stain remover and gently wipe/rub the stained upholstery surface. Make sure to start from the corners and work your way to the middle portion of the stain.
Continue working until the stain starts disappearing. In case of dealing with tough stains, you may need to go over the stain several times before it finally starts giving in.
If the repeated course of action doesn't bring up any results, you may need a stain remover with strong cleaning action.
Once the stain has vanished from the surface, dip another piece of cloth in lukewarm water and rinse the upholstery surface.
Don't use dry-heat treatment immediately after cleaning the upholstery surface because it can drastically damage the fabric strength thus, affecting the hard-wearing quality of the upholstery fabrics.
The last step is to dry-clean the upholstery using a soft cloth or a vacuum cleaner.
Additionally, you can make use of an upholstery shiner to regain the gleaming appearance of your upholstered furniture.
The Bottom Line
Wood stains can look difficult to clean from clothes and upholstered furniture surfaces until and unless you follow all the cleanup guidelines precisely and properly. For your convenience, we've explained the cleaning practices for clothes and upholstery wood stain removal in a step-by-step manner.
All it takes is a little bit of your precious time and valuable effort for removing wood stains from clothes and upholstered furniture surfaces. No need to mention that you should arrange for all the required materials and equipment prior to starting the cleaning procedure. Besides, this effective DIY wood stain removal method can save you the cost of professional cleaning services.