The very secret to finer looking furniture and its long-lasting serviceability lies majorly in its maintenance. And to be more specific, furniture upkeep is all about caring for its upholstery and dealing with it the right way. Given the fact that sofas and couches play the most vital role in our lives, from being our personal cinemas and dining spots to customized beddings and much more, we do owe them a lot (a good maintenance!).
Now when it comes to upholstery cleaning and maintenance, you gotta deal with a whole lot of nasty stuff, nearly all of which comes from the above-mentioned activities. And the most common examples are stubborn stains, lingering odors, ugly marks, abrasions and various other worst case scenarios.
Everything You Need To Know About Sofa And Couch Upholstery Cleaning
Adding to the earlier discussion:
Considering the fact that all of the above-mentioned damaging aspects are nearly unavoidable no matter how carefully you make use of your upholstered furniture, it's best to stick to preventions and most importantly fixes for dealing with all the mess.
These occasional maintenance projects usually include reviving hacks, deep cleanups and those methods meant to address/fix a certain recent or old damage. And you need to consider doing them at frequent intervals in addition to the regular cleaning, and of course they are crucial to go for, post there's been any accident (a spill, splash, dropping, staining, or simply prolonged time spans of no upholstery cleaning).
All of the tactics we'll be mentioning are entirely the DIY ones, meaning you neither have to indulge in detailed our tough procedure nor need to spend a lot.
Not to mention that this way, you can easily save yourself a great deal of money, as well, since you won't be seeking professional services, instead nailing the situation on your own.
We've also gathered a couple of advantageous tips and tricks, which you can consider as the preventive measures against damages and also for the general improvement (both physical and functional) of your furniture.
Having that said, up ahead is all the help by The Upholstery Master that you'll need to deal with your upholstered furniture that has been through bad times. Wishing you a great reading time!
Choosing The Right Stuff 
First things first, you can't possibly use just about anything to clean your stained furniture upholstery, and you have to know what stuff you are dealing with and how to do it the right way. This comprehension is super important, so as to not imply any damage to the upholstery and to come up with worthwhile outcomes.
P.S. Since we're doing all DIYs, all of the following supplies are basic household items .
Here's the description of what elements to use, depending on different types of furniture upholstery:
| | |
| --- | --- |
| Types Of Furniture Upholstery | DIY Stain Removing Supplies |
| Fabric Upholstery | white vinegar and castile soap or dish soap mixed with warm water |
| Leather Upholstery | olive oil and white vinegar |
| Suede Upholstery | vinegar (for spills), baking soda (for grease) |
| Velvet Upholstery | seek professional cleanup |
| Cotton Upholstery | soap and water |
| Microfiber Upholstery | brushing and vacuuming |
| Wool Upholstery | mild soap and water |
Addressing Sofa/Couch Stains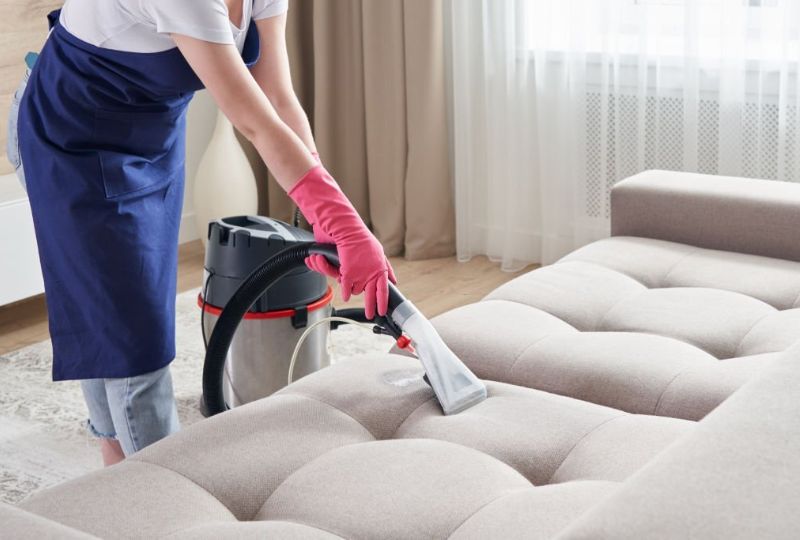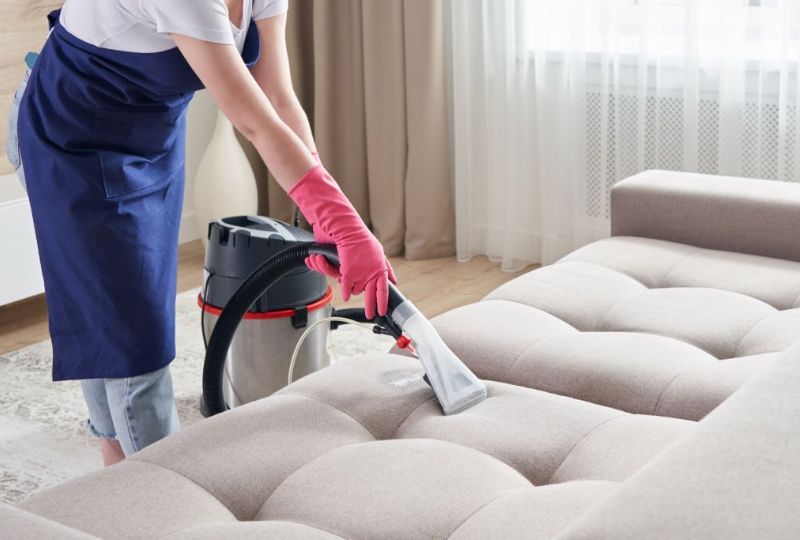 Stain removal is the foremost maintenance part of literally any and every given upholstered item, and it's the sole factor which will save your day and your investment from getting wasted.
Next up, is a simple, basic yet effective stain-removal method, which works for most of the upholstered furniture pieces, mostly couches and sofas.
Stuff You'll Need 
Washing up liquid/Laundry detergent
Baking Soda
White Vinegar
Warm Water
Vacuum Cleaner
Microfiber Cloth
Cleaning Rag
Method To Conduct
Start by thoroughly vacuuming your sofa or couch to get rid of loosened dirt, dust or debris. Make sure to work your way through all the crevices and unnoticed parts, so that no accumulated buildup, pet hair or crumbs are left. However, it's important to only use the brush attachment or at best to stick with hand vacuuming.
Make a cleaning solution by mixing warm water and any washing up liquid and with the help of a rag, use it to wipe off the entire sofa/couch frame (non-fabricated parts, legs, feet, back, etc.).
Combine the White Vinegar, Baking Soda, and detergent/washing liquid into warm water to make a cleaning solution. Give a good mix to everything so that the solution begins frothing up, as the reaction takes place between Baking Soda and Vinegar.
Saturate the microfiber fabric with the cleaner you made, wring it as much as possible and wipe off all the problematic parts of your furniture upholstery with it.
Rub gently in circular motions, working the solution deeply into the surface or you can also apply it directly onto the stains. Once you're done with the scrubbing, leave the cleaning solution to sit on the stains for the next 10 to 15 minutes.
Finish off by wiping the upholstery surface with another clean and dry fabric, preferably a microfiber one, so as to clear out all the cleaner residue and leave the furniture piece to dry.
You should come across a completely stain-free (and glistening!) sofa or couch at this point and if for some reason you don't manage to get the desired outcomes, simply repeat the process till all the stains are gone.
Getting Rid Of Odors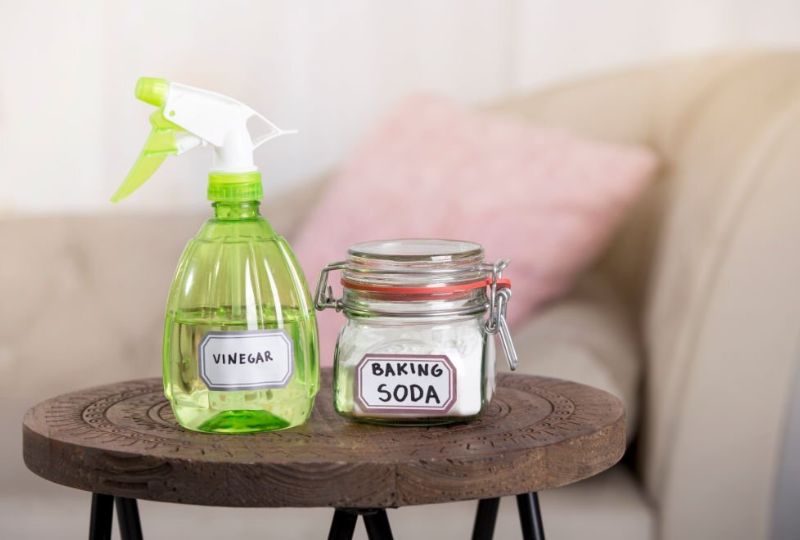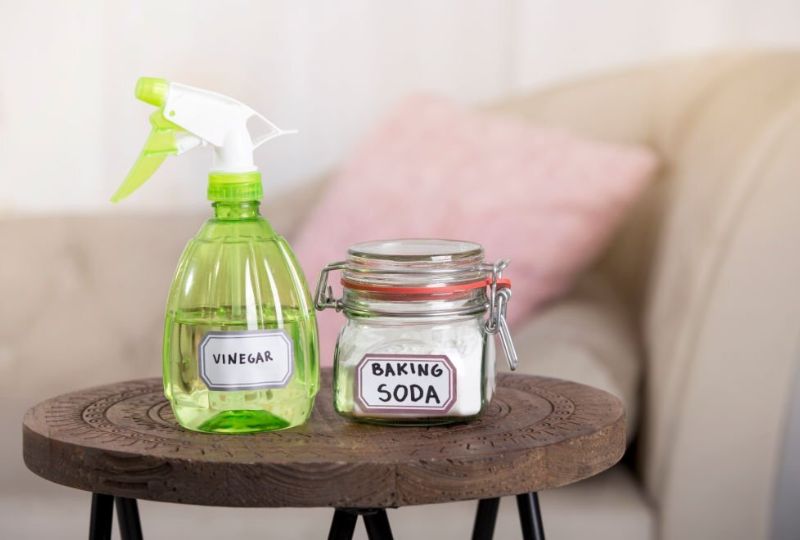 This, right here, is a really amazing deodorizing and revitalizing technique to revive your upholstered furniture by making it smell and feel fresh. You can even do this to your car seats too.
Tools To Grab
Baking Soda
Vacuum Cleaner
Dry Carpet Cleaner (optional)
Steps To Follow
Start by clearing your sofa or couch of any crumbs, particles and similar stuff.
Cover the whole surface with Baking Soda and let it rest for the next 20 minutes. In case of any tough stains, you can also mix in the dry carpet cleaner with Baking Soda.
After 20 minutes, go over the entire surface with the vacuum cleaner, using the brush attachment.
This simple yet effective hack will bring back the shine of your furniture upholstery, and will also make it smell nice and pleasant.
Handy Hacks To Upkeep Your Upholstered Furniture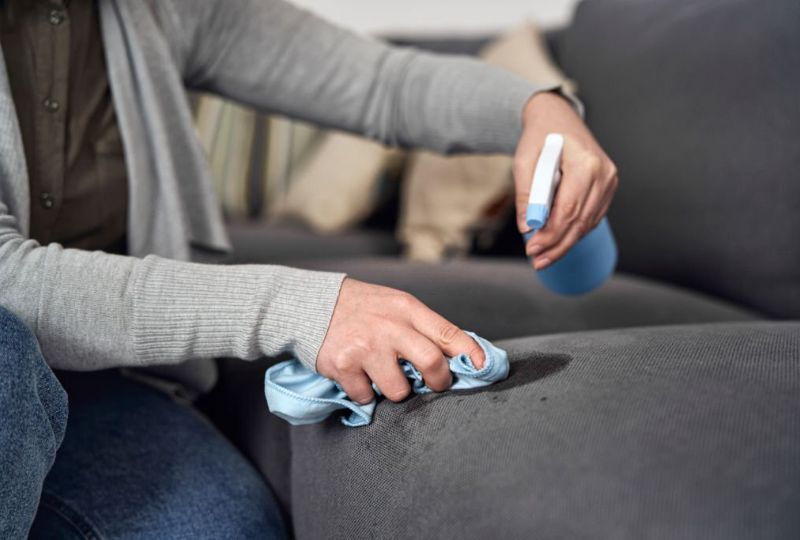 Post the potential cleanups, here are a couple of useful tips and tricks which you can consider as the maintenance guide for your upholstered furniture. Doing these will retain the beauty and original profile of your furniture and will also keep major and minor damages at bay.
Some Products To Invest In: There are various useful products with which you can consider having handy, in order to upkeep your furniture upholstery and also to fix the situation, after some sort of mishap. These include a lint roller (for keeping dust, lint and hair accumulation at bay), leather soap (for keeping the upholstery clean), leather conditioner (for keeping the upholstery soft and in good condition), and anything else that you can find in this regard. This can also include a packing tape, which you can use after your pet has been on the sofa.
Alternative Quickies: Handheld steamer is also a really good product to get as this little useful buddy can do the job of detailed cleanups. However, it's only to be used when you've got fabric upholstery and it's okay with water-based cleaners. As a substitute, you can also make use of your iron with the "Steam" setting.
Spot Testing Is A Must: No matter what cleaning element you're making use of, you have to spot test it prior to the application. This goes the same for DIY cleaners too and you can use a rather insignificant part of your furniture upholstery for this purpose.
Dealing With The Cleaner: Always make use of a minimum amount of cleaner or solution, since the effectiveness lies in working it properly into the upholstery, rather than using an insane amount, as the latter is only going to backfire. If needed, you can eventually increase how much of the product you use, but it's best to begin with minimal. Also, ensure giving enough time to the product to act and fix things for you, since you can't possibly expect results in a lesser time span. 5 to 10 work fine in general.
Right Proceeding Technique: Always ensure working your cleaning product or solution thoroughly into the upholstery and gentle circular motions are the best for it. Also, you can take help from stuff like a rag, microfiber fabric (does an excellent job!) or a small non-abrasive brush. Avoid scrubbing or rubbing vigorously, so as to prevent upholstery pilling.
Top It Up With Vacuuming: Irrespective of the cleaning method you stick to, always consider vacuuming both at first and in the end, once you're done with the cleanup, to achieve more effectiveness out of your efforts.
To Cover Up 
This was our time with a comprehensive take on upholstery cleaning, revamping and reviving. And the best part is that all of the techniques, procedures and equipment we mentioned totally comprise basic household stuff, which is to say that you don't need to do anything extra at any point. Not to mention the major affordability aspect of all these useful tactics. They will save you both after those everyday accidents/damages happening to upholstered furniture and also the money that will be required for getting professional services. With that said, it's high time you treat your sofas and couches the right way they deserve, that too, without bothering yourself in any way.
Hoping for things to be really favorable for you!