Outdoor cushions or bench cushions as they are sometimes called, are one of the cutest additions that you can make to your outdoor decors. They are cozy, comforting, adorable and can spice up any unattractive seating space in no time. However these little adorable fellows remain super serviceable, it's an undeniable fact that they do get subjected to a major extent of wear and tear, given the fact that they are, of course, placed in exterior spaces.
Most of this damage consists of environmental aspects like Sun and rain, and can sometimes be some accidental factors too, such as misuse by birds, drinks spilling, tree sap, or simply the worsening that takes place with the passage of time. Now irrespective of what the damaging factor is, there's of course, a dire requirement to fix or revive the look of your outdoor cushions.
And if you haven't given this thing a thought before, you'll be happy to know that you can totally do it in some really basic yet effective ways and can therefore save your money from…well, fading in the Sunlight or drowning in the rain!
Easy And Effective Maintenance Methods For Outdoor Cushions Upkeep
The Upholstery Master is once again, right at your service, helping you make the most out of your valuable home décor and don't get displeased by anything showing signs of damage, wear or age. In addition to a really effective cushion cleanup, we've also got you a number of useful fixes and hacks for your outdoor cushions getting damaged from various factors/under certain circumstances.
This way, you can easily address all sorts of situations without any trouble, so let's get on to it right away!
Giving A Deep Cleanup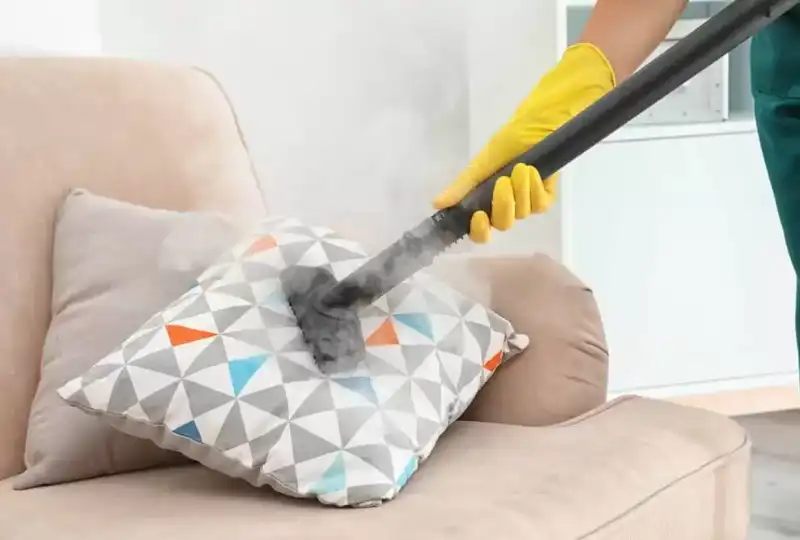 This is a mainstream cleaning method with which you can revamp your luxury cushions in an efficient manner and can make them look attractive like new ones.
Grab Your Essentials:
Soft Bristled Brush
Vacuum Cleaner (along with upholstery attachment)
Mild Soap or Dish Detergent
Garden Hose
Water Bucket
A few Towels
Steps Of Cleaning
Start by giving your outdoor cushions a good shake, followed by going over them with the upholstery attachment of your vacuum cleaner, so as to get rid of all the loosened debris, dirt and dust. Ensure doing this outside and atop a protective plastic sheet to prevent staining.
Make your cleaning solution by mixing the dish detergent or soap into a proportionate amount of water in a bucket.
Take the brush, dip it in the cleaning solution and go over the surface of the cushion(s) in a gentle scrubbing motion, while focusing on the problematic parts specifically (stains and marks). Let the cleaner get absorbed into the cushions for a couple of minutes.
Rinse your cushions thoroughly with the help of the garden hose, until you see that the dripping water is clear (cleaner-free). Make sure to have your hose on the medium setting, so as to not over drench the cushions.
Leave your cushions in an upright position for air drying and you can also speed up the process by absorbing excess water with a couple of towels.
Getting Rid Of Mold Or Mildew
This is yet another crucial maintenance method for literally any exterior upholstery, fabrication and of course cushions. Being subjected to rain and within a natural environment, most probably a garden, the cushions often end up getting infested by mold or mildew, so learning how to get rid of them is absolutely necessary.
Things You'll Need:
Scrubbing Brush
Sponge
Distilled White Vinegar
Detergent or Bleach (get the one which is oxygen-based and only use it if the label of your cushions indicates the application to be okay)
Water
Disinfecting The Cushions
Start by scraping off most of the mold and/or mildew buildup with the help of the brush.
Fill the distilled white vinegar in a clean spray bottle and spritz the cushion(s) thoroughly with it. And if you're dealing with tough stains, then you can also saturate a fabric with vinegar and place it over the cushion. Let the vinegar soak in completely for the next 20 to 30 minutes. Alternatively, you can also go for the usage of bleach.
After 20 to 30 minutes, scrub the cushions again with the brush, so as to shift all the stains.
Make a cleaning solution by mixing detergent into water and apply it on the cushions with a sponge.
Finish off by rinsing the cushions thoroughly and lay them to air dry completely, preferably in a sunny space.
P.S. You can also use this method for cleaning and treating the mold/mildew accumulations on other outdoor furniture, like a patio umbrella.
Restoring Sun Damage
Of course, sunlight is the most major factor faced by outdoor cushions and when the exposure gets prolonged or way too intense, it's meant to take a toll on the cushion appearance. Color fading or discoloration is the most common consequence of sun damage and while you might consider it to be irreparable, a surprising aspect is that you can totally revert all the adverse effects.
All you need to do is sprinkle Baking Soda over the bleached spot of the cushions and alternatively, you can also spray it with White Vinegar.
Next up, you can simply wash them thoroughly like you normally would and have them dry completely.
Removing Different Stains
While it's almost impossible to save your outdoor cushions from getting damaged, because frankly, you can't even predict what could harm them (literally anything and everything!), the most positive attitude is to look for solutions other than panicking.
Here are a couple of major stains commonly experienced in exterior spaces, along with handy ways to get rid of them.
1. Oil (or grease) Stains 
An immediate fix for the fresh food (oil/grease/condiments) stains is to sprinkle them liberally with Baking Soda or cornstarch, so as to soak them up.
Next, you'll need to use some sort of straightedge like a non-functional credit card or ruler to scrape off most of the dried up stain residue.
While this is going to fix the maximum extent of the problem, if some staining still gets left, then you'll need to make a cleaning solution by mixing Borax powder and water (preferably a one-to-four cup ratio).
Apply this cleaner onto the cushions either directly or with the help of a brush or a sponge, let it get absorbed and rest for the next 30 minutes, followed by rinsing the cushions thoroughly.
2. Grass Stains 
There are multiple things that can be used to treat grass stains and it's strongly recommended to address them immediately as any delay will only cause the stain to become tough and difficult to deal with.
As for the cleaning ingredients, these include liquid detergent (with stain-removing enzymes), Borax solution, Oxygen Bleach and of course, water.
One way to do this is pretreating the grass stains with liquid detergent, followed by scrubbing it thoroughly, rinsing with warm water and applying the solution of oxygen bleach and warm water (one part bleach, three parts water).
Another method is to make use of a Borax solution, followed by cleaning the cushions with the liquid detergent, scrubbing with the brush and finally rinsing with clear water.
3. Bird Dropping Stains
As soon as you come across an outdoor cushion assaulted (fair enough!) by birds, the first thing to do is "not do" anything about it and only let it dry completely.
Once dried, take a sponge or a microfiber cloth and wipe off as much as possible.
Next up, you'll need to make a solution of Borax, dish soap and warm water and fill it in a spritz bottle.
Spray the problematic parts of your cushions thoroughly with it and let them soak up the cleaner completely for a couple of minutes, followed by rinsing them with clear water.
4. Tree Sap Stains 
Tree sap being both an oily and sticky material, can give you a really tough time while you deal with it, however, it isn't impossible to get rid of.
Start by directly applying an enzyme-based stain remover over the stain and let it get absorbed for the next 15 minutes.
The next step is to make a cleaning paste by mixing water and powdered laundry detergent, followed by applying it over the cushions using a soft bristled brush.
Rub gently along the direction of the fabric weave and finish off by rinsing with hot water.
P.S. You might need to repeat the procedure if it doesn't work in the first attempt.
5. Wine Or Drink Stains 
The most basic thumb rule of dealing with "post-fun-time-damages" aka wine stains is to address them immediately, and this goes for both indoor and outdoor incidents.
And to do this, you need to sprinkle the affected area with either Baking Soda or Cornstarch and let the powder soak for a couple of minutes.
Once dried, clear it up with a vacuum cleaner and don't let the vacuum attachments rub the dried buildup into the fabric.
Make a cleaning solution by mixing Dawn Dish Soap and Hydrogen Peroxide within the proportions of one-fourth cup each, apply it onto the stain and let it stay for the next 20 to 30 minutes.
Finish off by rinsing thoroughly with warm water and if things don't work out in the initial attempt, simply go for another shot (afterall what you're dealing with is the result of way too many shots!).
P.S. A fun, crazy yet effective thing to do is to mix the red wine stain immediately with white wine, since the red one is the hardest to remove. And diluting, irrespective of how counterintuitive this seems, will make it easier for you to get rid of the staining.
Washing By Hand And Machine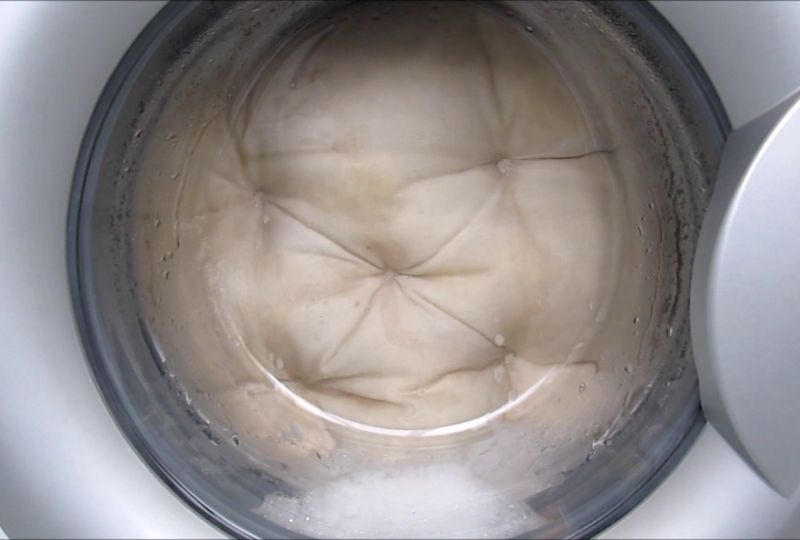 In case you're lucky enough to have outdoor cushions with removable covers, you can simply have the cleaning job done with the help of a washing machine. Just ensure conducting the cleanup in accordance with the instructions given for the machine washing and you'll be good to go.
As for hand washing, you simply need to soak your cushion covers in an adequate amount of warm soapy water. Give them a good yet gentle scrubbing with either a brush or a sponge, rinse them off completely and let them dry in an airy space.
Cleaning At Accurate Intervals
This initially depends on the usage extent of your outdoor/garden cushions or essentially for how long they stay outside. And you can conduct the cleanups, depending on the utilization frequency, such as at the end of the summer.
A good idea at this point is to clean them if you're about to store them for some time, i.e. they won't be in use. Regular checking for any stains or damages is also a useful approach to keeping your cushions in a good condition, as you can immediately address any mishap(s).
Additional Hacks For Outdoor Cushions Upkeep
Post all the mainstream and frequent situations of cushion "accidents", ahead is a compilation of some really useful tips and tricks, meant for the upkeep of your cute, plush and plump outdoor accessories. These ideas will be of great help for you, in order to prolong the lifespan of your cushions and also make them stay attractive-looking all the time.
Caring For The Surroundings: It's super important to carry out each and every cleanup procedure in an outside space, away from any stuff, such as any nearby plants, as you wouldn't want them to come across the detergents you'll be using.
Sunny Or Airy: Cleaning your cushions on a Sunny day is the best thing you can do, as it will ensure a rapid drying. However, it's a way better idea to lay your cushions in a covered yet airy spot to dry.
Everyday Dealing: Even if you don't manage to have deep cleanups very often, dusting your cushions off and vacuum cleaning (the first method mentioned earlier) them is a great way to upkeep them and most importantly this will keep major damage at bay. Plumping the cushions is also something you can do on an everyday basis.
Care For The Care Labels: Any and every maintenance method you stick to, must only be in accordance with the indications of the care labels on your cushions. And in case, they're long lost, you can reach out to the manufacturer or seek info online, regarding the dealing manner.
Save Your Efforts: Post every cleanup, lay your cushions atop a clean protective sheet and in an upright position, most preferably away from any source of dirt or contamination.
Let Them Rest: Probably the most important thing to do to your outdoor cushions, is to keep them covered (with slipcovers) or stored away when not in use, in order to keep the damage at bay. This also includes putting them prior to extreme weather conditions, such as heavy rainfalls or snowfalls.
Preventive Measures: This majorly involves treating the cushions with fabric protectants and stain-repellents, which you can get in accordance with your cushion fabrications and manufacturer guidelines.
Cleaning Techniques: When scrubbing the cushions, always work your way in the direction of the fabric weave, essentially in a seam to seam manner, and NEVER IN CIRCULAR MOTION. Doing so will prevent a deeper penetration of the stain, its dried up residue and cleaner.
Spot Testing: It's more than crucial to spot test each and every cleaning element prior to using it on the cushions, no matter if it's a commercial cleaner or a household one.
Treat The Accidents: Attend a damaged or stained cushion as early as you can, blot up the liquids, spot treat the stains or simply curse the doer! basically everything you can, at that particular moment.
To Plump Up (To Sum Up)
We're glad to have come up with all the essential help you can majorly use for keeping your outdoor decors in a good condition. Speaking of exterior ornamentation, cushion staining and damage is a frequently experienced phenomenon, which also has a lot of potential of unsettling you. So in order to not let that happen, we've got you all of the necessary info that you will require while caring for your outdoor cushions and saving them from going excessively bad. All of the potential fixes we've compiled merely make a smart use of household stuff and Voila, you can totally generate really favorable outcomes from them.
Wishing you cleaner, plumper and plusher cushions ahead!