Commercial & Residential Service
Curtains & Accessories Dubai

Fine Quality Curtains & Accessories Dubai, presented to you by The Upholstery Master, are one of the most essential elements of the interior decor, which also prove to be practically favorable. These curtains and their accessories are an ideal way to add color, texture, style, and vibrance to the interior design of your space.
We Are The Trustworthy Suppliers Of Quality Curtains & Accessories Dubai
When it comes to the quality of curtains and other furnishing products, none can match the standards set by us. From our all-exclusive curtain stores in Deira Dubai, all the way to shops in Dubai Satwa, we deal in the entire UAE, thus you won't be facing any difficulty in finding the best curtains for your place from us.
Our curtain stores in Dubai are simply matchless for offering the best quality as well as the excellence of the services. You can buy all curtains & accessories Dubai at our shops without making a dent in your wallet. With that said, it makes us a one-stop solution for all types of curtains and soft furnishings. We assure you this decor purchasing experience of yours will be the most phenomenal one for you.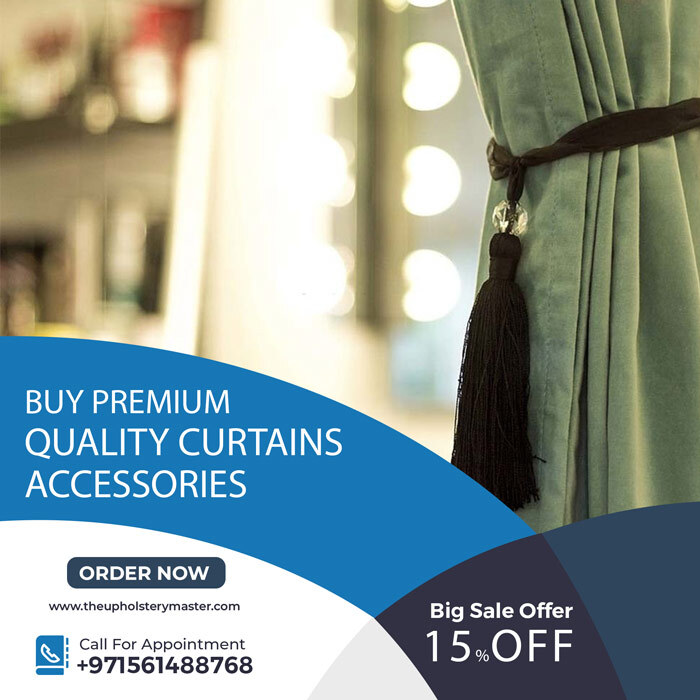 Get Our Professional Curtain Fixing & Installation Services In UAE
We bring you the most remarkable set of curtain installation and fixing services. Our highly proficient services are meant to ensure a seamless and totally timeless fitting of curtains within your places. On top of that, our experts also make sure that your curtains get flaunted in a perfect harmony with your existing home decor.
And much similar to the widest Curtains Dubai collection, you can avail of this vast compilation of skilled services from anywhere in the UAE. We offer efficient curtains & accessories Dubai installation services for an instant and skillful transformation of your places. As curtain fixing is equally important as the curtain selection, to make a bold statement in your space, therefore, it is recommended that you get help from our professionals for a time-saving, inexpensive, and flawless curtain fitting.
We Are Right at Your Service Round The Clock & are Just a Call Away
Avail Our Curtains Alteration & Customization Service At Affordable Rates
You can buy our customized curtains to make your interiors the most delightful in appearance and style. That's because our made-to-measure window curtains and accessories Dubai complement the design of your home really well and add a great deal of style to it. These inexpensive yet precisely custom-made curtains offer a perfect fit for your interior décor and space requirements.
With our quality alteration services, you can get the desired size of curtains for your windows. We are always ready to provide you with the best quality alterations as well as customizations of your curtains at your doorstep. And, our professional workers are available round the clock for your consultation and for suggesting wholesome ideas according to your preferred home decor taste.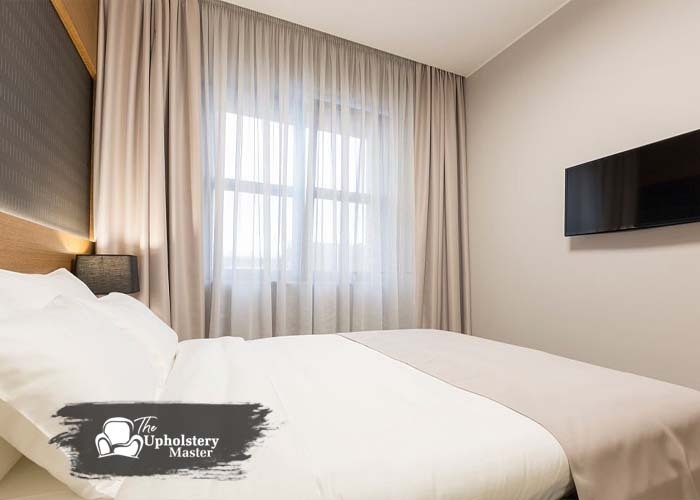 Reasons For Investing In Our Quality Curtains
Curtains are wonderful elements that greatly enhance the ambient and style of your living space and are used regularly. These window coverings come in a variety of styles, colors, and designs and offer a lot of practical and ornamental benefits. We provide the best quality curtains in the UAE that are durable yet inexpensive and help you adorn your places efficiently.
There are plenty of reasons for purchasing our curtains & accessories Dubai, some of them are listed below.
They will stop direct sunlight from entering your room to protect your furniture and also reduce excessive glare during the daytime.
Our thick fabricated curtains will also regulate the temperature in your home by providing insulation.
It can be an ideal way to add privacy to your room and cut yourself from the outside world.
These curtains are a brilliant choice for barricading your windows against intruders by creating a barrier for your family.
Besides thermal insulation, they can also help you achieve noise reduction with absolutely no effort.
Modern designs of our window coverings can make your interior look great and can add value to your living space.
Our best quality curtains are durable and prove to be serviceable for a longer duration.
Choose From Our Wide Spectrum Of The Best Curtain Fabrics
We believe in keeping both our products and services as excellent as possible from the very beginning all the way to the accomplishment. With that said, we have got you our captivating curtains in Dubai featuring the most sublime build quality and finest fabrication. And, within our wonderful and extensive Curtains & accessories Dubai fabrication spectrum, you will come across several amazing options and can choose the one that suits your style best.
1. Cotton
Cotton is a diverse fabric used to achieve a wide range of curtain styling options. It offers a crisp, smooth feel that suits the traditional or modern style curtains. As it is a very light fabric, cotton curtains don't require additional lining to hang. However, if you want to block sunlight, choose a cotton curtain with a tight weave or proper lining.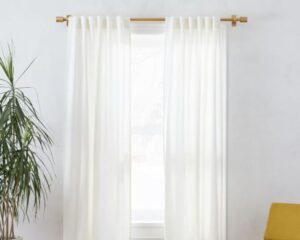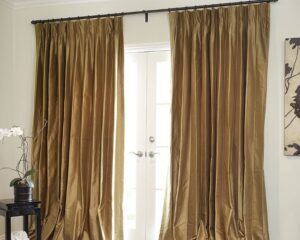 2. Silk
If silk doesn't say "luxury" nothing else does, as these are chosen by considering their aesthetic appeal rather than functionality. It is a type of heavy fabric that drapes well and looks fabulously cozy in bedrooms. You can also use these curtains with roller blinds for improving the aesthetics of your place.
3. Polyester
It is a very common fabric choice as it is durable, affordable, and easy to care for, as well. These curtains don't really wrinkle, stretch, or shrink and are an ideal option for bedrooms and living rooms. You can also opt for a silk-look polyester fabric curtain for more durability without compromising the style of your interior.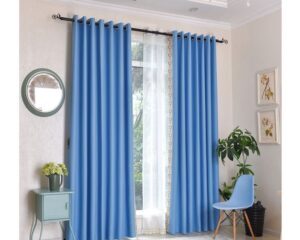 4. Linen
Linen is a natural fiber and can help you create an airy, casual, and relaxed environment. It can be a superb choice for curtains that pool on the floor and can also dignify your interior decor all the way to perfection.
5. Velvet
It is a fabric that comprises either natural or synthetic fibers and can add glamor and richness to any room. Velvet curtains are thick, which makes them the ideal choice for blocking sunlight and achieving sound reduction. These curtains drape well and provide the place with a splendid look, along with perfect coverage.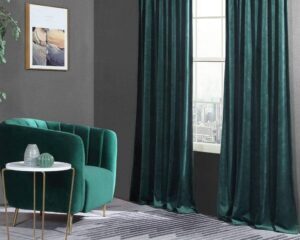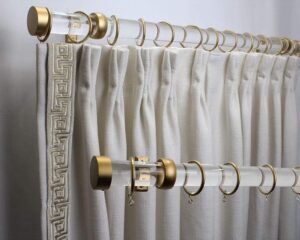 6. Acrylic
Acrylic is a lightweight fabric and has a similar texture to wool. It can be a superb choice for interiors that require insulation. These curtains are hypoallergenic and can efficiently disperse moisture and humidity in the room. Besides, they are really beautiful and complementing in their appearance.
7. Sheer
Sheer is a traditional fabric for curtains and can create a dreamy atmosphere in the room's interior because it is a see-through fabric and can range from semi-translucent to transparent fabrics. Mostly, they are available in neutral shades and can be coordinated with any decor style. These curtains also offer a lot of practical benefits too.
We Offer The Trendiest Curtain Styles In The UAE
Our pleasant looking and serviceable Curtains & Accessories Dubai are widely available within the most diversified collections. This is to ensure the fact that you can easily find the best decor and practical provisions for all your requirements.
From the flawlessly cozy window treatments by pleated curtains all the way to the dynamic ornamentation by the grommet ones, the wonders of our classy Curtains & Accessories Dubai, are totally endless. And so goes for the numerous functional benefits as well. We have described below some exceptional ways to style your curtains for an elegant look.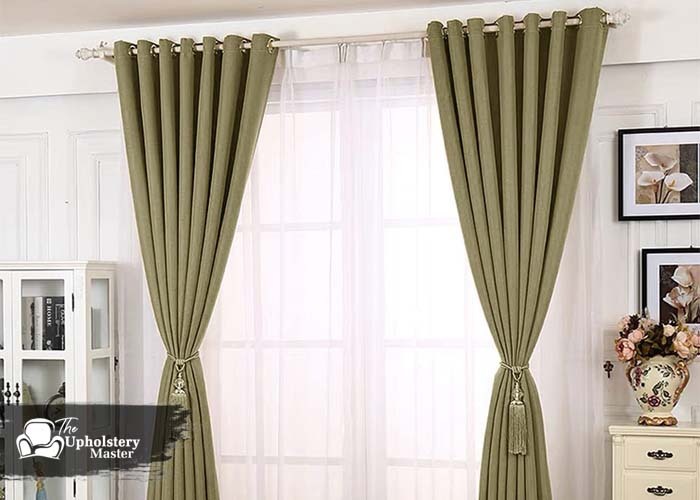 1. Pinch Pleat Curtains
If you're going for a traditional style, pinch pleated curtains are the best choice for you. These curtains are typically made with thicker fabrics and are the most popular kind of pleated curtains. The pleats are stitched and pinched at the top of the curtain, allowing the folds of the fabric to run along the length of the curtain and create an elegant, formal look. They are available in a range from two-finger to five-finger pleats.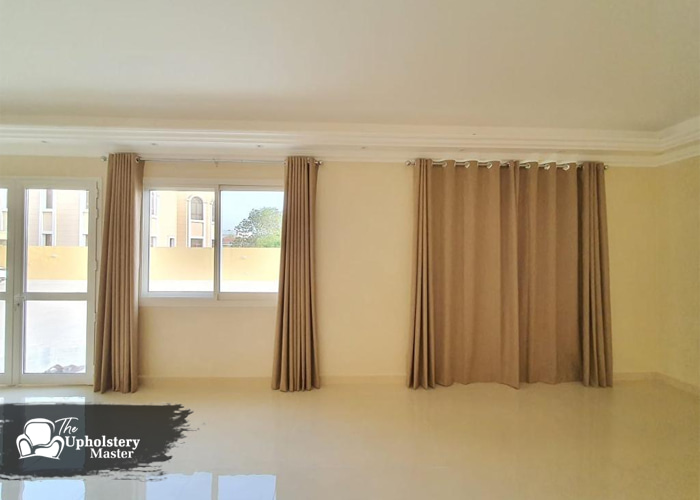 2. Pencil Pleat Curtains
Pencil pleat curtains are thinner and have single pleats that make working with various curtain hooks or rods really easy. They are more casual than any other types of pleated curtains and are a perfect choice for bedrooms and living rooms. These curtains can add beauty to any interior space with their sleek design and enchanting appearance.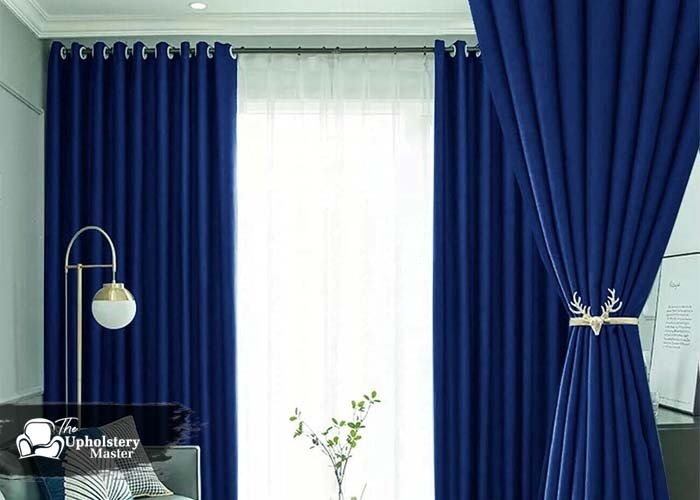 3. Box Pleat Curtains
These curtains feature a tailored appearance and can enhance the charm of any room. The folds in their design run across the full length of their fabric, providing complete window coverage. These curtains are best suited for dining rooms and lounge areas as they can add a touch of royalty with their uninterrupted fold designs. You can also enjoy many functional advantages with these curtains.

4. Eyelet Curtains
Characterized by simple yet elegant designs, these are one-of-a-kind curtains and can be the best choice for you. They are easy to hang and create full pleats in seamless drapes, making them a perfect addition to any modern home. Mostly, they are available in bold colors and interesting patterns and provide an impressive look because their deep fabric folds perfectly balance everything.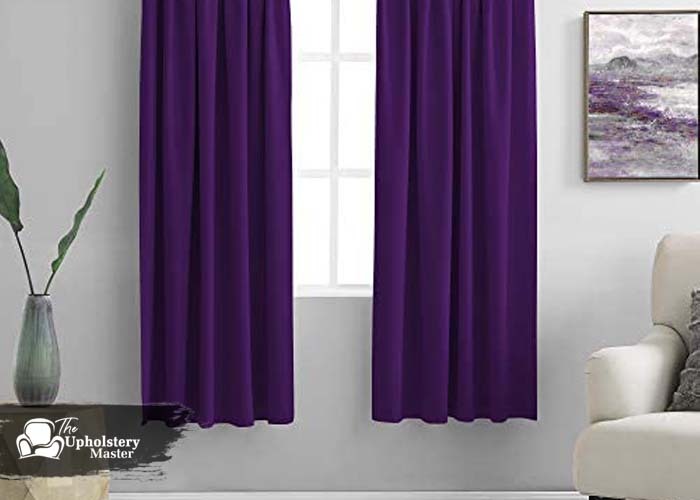 5. Rod Pocket Curtains
Under this category comes lightweight or sheer fabricated curtains. These curtains help you improve the aesthetics of your place because they are more casual yet classy in style and provide an entire window coverage. They are easy to assemble and used in combination with thinner, tighter-fit curtain rods. Because of this feature, they are ideal to be hung in places where curtains aren't opened or closed frequently.
Stylish pattern for curtains in UAE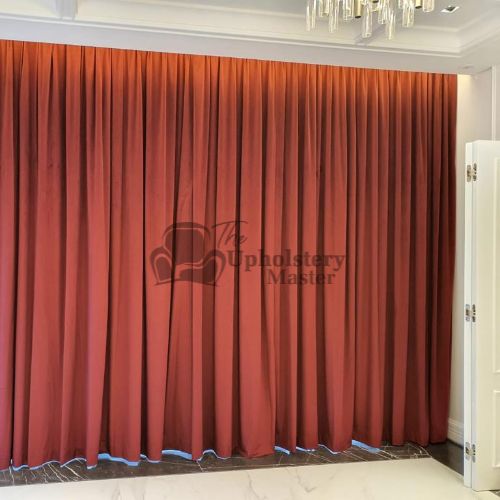 Red pattern Curtain designs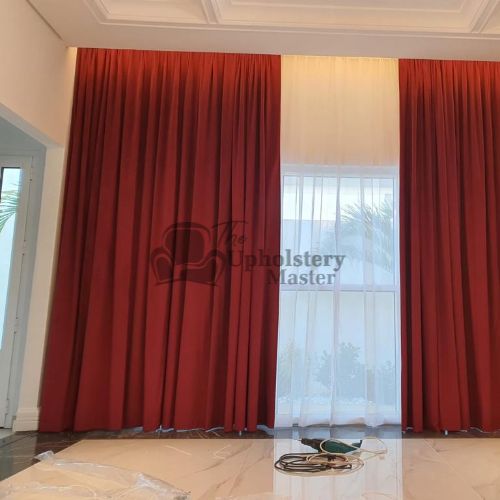 Red color curtain designs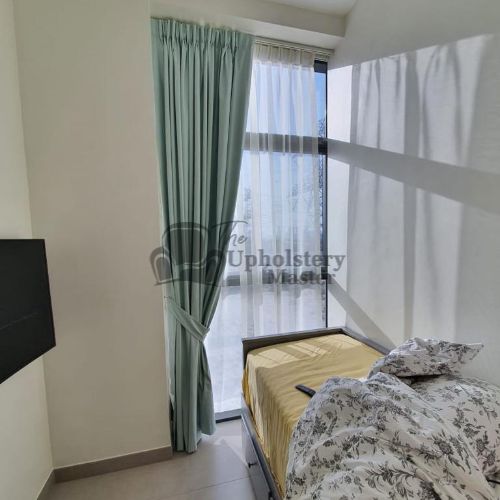 Curtain designs in Dubai 2023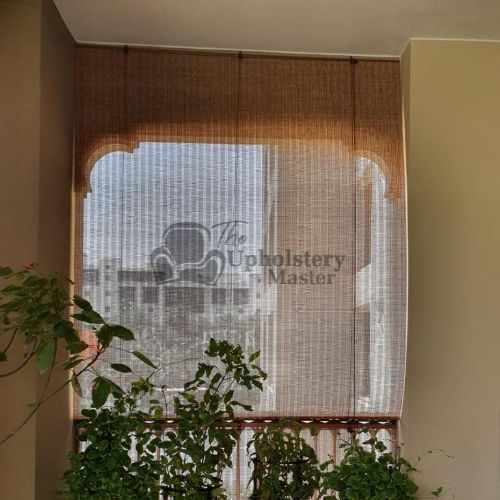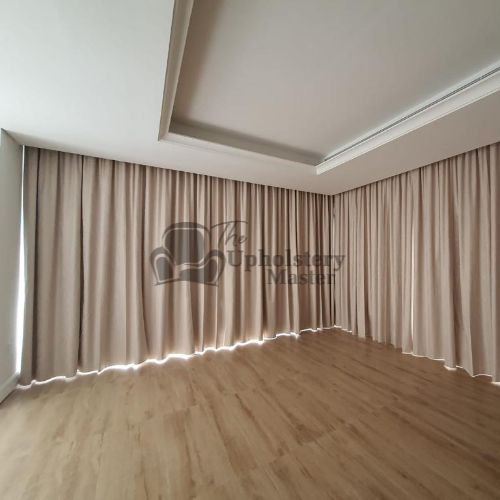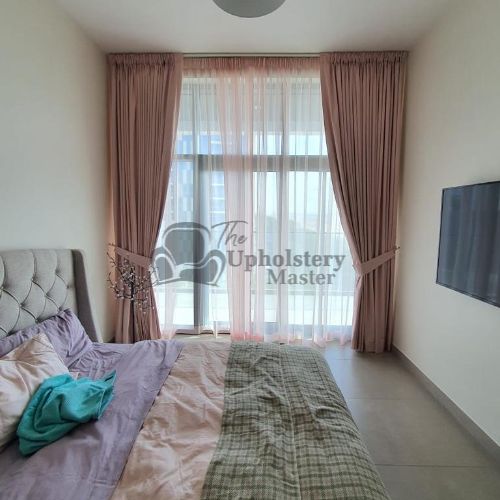 Best curtain collection in Dubai
Shop For The Most Useful & Inexpensive Curtains & Accessories Dubai At Our Stores
There are many types of curtains & accessories Dubai that can intensify the appearance of your window treatment. You can add a decorative flair to your window coverings and completely change their look with additions bought from us. You can get these decorative curtain additions at our stores with no hassle, that too, at affordable prices.
Let us provide you with the information on all the curtain furnishings to solve all your queries about what you can get at our stores.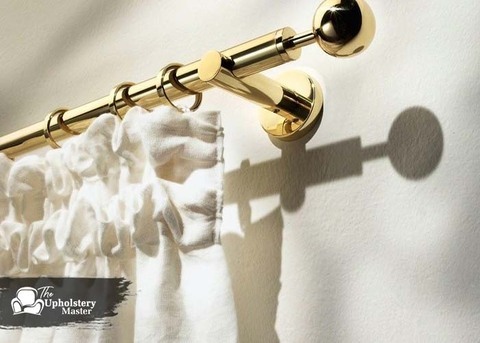 1. Curtain Rods
You can replace your traditional metal curtain rod with our modern and decorative rods to make your curtains look more elegant. We offer many styles, materials, and colors for curtain rods and each of our unique versions of rods has its own ornamental and practical benefits. Moreover, we also offer curtain rods in a variety of metallic and wooden finishes such as bronze, silver, gold, and many others.
2. Curtain Finials
It is the most essential accessory of a curtain as without a finial the curtain panel looks incomplete. They are decorative pieces that attach to rod ends. We have finials in unique shapes and shiny appearances to make your curtains the centerpiece of attraction. The round-shaped finials are the most desirable ones and the trendiest too, nowadays. These finials prevent the curtains from falling off the rod.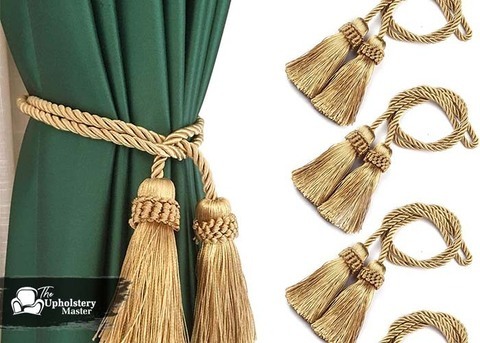 3. Tiebacks Or Holdbacks
Tie-backs and holdbacks are essential curtains & accessories Dubai that are used to pull back curtains or to hold them to the sides of the windows. Though both have the same purpose, they function distinctly. Tiebacks are made of fabric and can have tassels on the end while hold-backs are made of either metal, wood, or plastic materials. You can enjoy a smooth and trouble-free movement and handling of your curtains with the help of our quality tiebacks and holdbacks.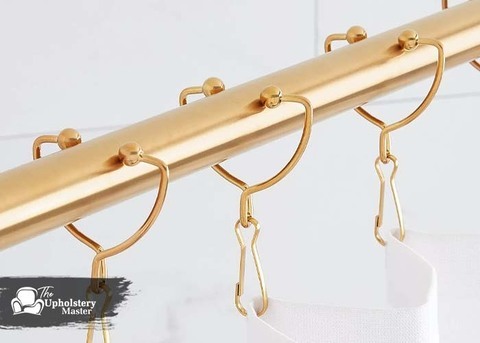 4. Hooks & Rings
The curtain hooks and rings are mostly used in combination with the tiebacks or holdbacks and are used to attach curtains to the curtain rods. They are also available in a variety of styles, colors, and materials to increase the adornment of your curtains. They are a quite visible part of the overall curtain design and can't be neglected because of their functional significance.
FAQs | Frequently Asked Questions
There are many curtains & accessories Dubai that can perk up the enchanting looks of your space and without them, your curtain panel looks incomplete. Some essential additions include a hook, ring, rod, tieback, finial, bracket, and several other accessories.
The finial is a curtain accessory that can make any curtain panel the centerpiece of attraction because of its shiny appearance. It is a decorative addition to the ends of a curtain rod and without it; the panel looks incomplete. It is available in a variety of shapes but the round ones are the most versatile choice in this regard.
Yes, they not only work as decorative additions but also offer a lot of practical benefits. Without a curtain rod, you can't hang a curtain and with no holdbacks, there is no purpose in having beautiful curtains because they won't open. The finals also prevent the curtains from falling off the rod.
It depends upon the type of material, size, and design of the accessory that you want to have. The more luxury you want, the more expensive it will be. However, there are many companies that offer classy accessories at affordable prices.